This entire month I've been so freaking excited about Christmas. As you could probably tell if you follow me on any of my social media accounts.
This year was a wonderful year of collecting books. At the end of 2016 I had a little under 500 books. My goal was to reach 600 by the end of 2017. I am ending this year with a little over 700 books! With that being said, I didn't purchase as many books as I normally do!
Hopefully, my hauls will be smaller. And hopefully, my wrap ups will be bigger!

Exile
By Kevin Emerson
Published By: Katherine Tegen Books on April 29th 2014
Genres: Young Adult, Contemporary, Romance
Pages: 320
Purchase: Amazon – Kindle

Synopsis:

Catherine Summer Carlson knows how to manage bands like a professional – she's a student at the PopArts Academy at Mount Hope High, where rock legends Allegiance to North got their start. The never-skipping-class Catherine part of her knows, though, that falling for the lead singer of her latest band is the least professional thing a manager can do. But Caleb Daniels isn't an ordinary band boy – he's a hot, dreamy, sweet-singing, exiled-from-his-old-band, possibly-with-a-deep-dark-side band boy. And he can do that thing. That thing when someone sings a song and it inhabits you, possesses you, and moves you like a marionette to its will.

Over tacos on lunch dates to far-off outlet-mall planets and during practices at the Hive with their new band, Dangerheart, Catherine – no, Summer – falls in love with Caleb.

She also finds herself at the center of a mystery she never saw coming. When Caleb reveals a secret about his long-lost father, one band's past becomes another's present, and Summer finds it harder and harder to be both band manager and girlfriend. She knows what the well-mannered Catherine side of her would do, but she also knows what her heart is telling her. Maybe it's time to accept who she really is, even if it means becoming an exile herself…
Immaculate
By Katelyn Detweiler
Published By: Viking Books for Young Readers on May 26th 2015
Genres: Young Adult, Contemporary, Romance, Magical Realism
Pages: 464
Purchase: Amazon – Kindle

Synopsis:

Mina is top of her class, girlfriend to the most ambitious guy in school, able to reason and study her way through anything. But when she finds herself pregnant—despite having never had sex—her orderly world collapses. Almost nobody believes Mina's claims of virginity. Her father assumes that her boyfriend is responsible; her boyfriend thinks she must have cheated on him. As news of Mina's story spreads, there are those who brand her a liar. There are those who brand her a heretic. And there are those who believe that miracles are possible—and that Mina's unborn child could be the greatest miracle of all.
Lover Unleashed
By J.R. Ward
Published By: NAL on May 29th 2011
Genres: Fantasy, Paranormal, Vampires
Pages: 512
Purchase: Amazon – Kindle

Synopsis:

Payne, twin sister of Vishous, is cut from the same dark, warrior cloth as her brother: A fighter by nature, and a maverick when it comes to the traditional role of Chosen females, there is no place for her on the Far Side… and no role for her on the front lines of the war, either.

When she suffers a paralyzing injury, human surgeon Dr. Manuel Manello is called in to treat her as only he can—and he soon gets sucked into her dangerous, secret world. Although he never before believed in things that go bump in the night—like vampires—he finds himself more than willing to be seduced by the powerful female who marks both his body and his soul.

As the two find so much more than an erotic connection, the human and vampire worlds collide… just as a centuries old score catches up with Payne and puts both her love and her life in deadly jeopardy.
The Leaving
By Tara Altebrando
Published By: Bloomsbury Publishing Plc on May 25th 2016
Genres: Young Adult, Mystery, Contemporary, Thriller
Pages: 421
Purchase: Amazon – Kindle

Synopsis:

Eleven years ago, six kindergarteners went missing without a trace. After all that time, the people left behind moved on, or tried to.

Until today. Today five of those kids return. They're sixteen, and they are . . . fine. Scarlett comes home and finds a mom she barely recognizes, and doesn't really recognize the person she's supposed to be, either. But she thinks she remembers Lucas. Lucas remembers Scarlett, too, except they're entirely unable to recall where they've been or what happened to them. Neither of them remember the sixth victim, Max. He doesn't come back. Everyone wants answers. Most of all Max's sister Avery, who needs to find her brother–dead or alive–and isn't buying this whole memory-loss story.
Far From You
By Tess Sharpe
Published By: Disney-Hyperion on April 11th 2015
Genres: Young Adult, Mystery, LGBTQ+, Contemporary
Pages: 352
Purchase: Amazon – Kindle

Synopsis:

Sophie Winters nearly died. Twice.

The first time, she's fourteen, and escapes a near-fatal car accident with scars, a bum leg, and an addiction to Oxy that'll take years to kick.

The second time, she's seventeen, and it's no accident. Sophie and her best friend Mina are confronted by a masked man in the woods. Sophie survives, but Mina is not so lucky. When the cops deem Mina's murder a drug deal gone wrong, casting partial blame on Sophie, no one will believe the truth: Sophie has been clean for months, and it was Mina who led her into the woods that night for a meeting shrouded in mystery.

After a forced stint in rehab, Sophie returns home to a chilly new reality. Mina's brother won't speak to her, her parents fear she'll relapse, old friends have become enemies, and Sophie has to learn how to live without her other half. To make matters worse, no one is looking in the right places and Sophie must search for Mina's murderer on her own. But with every step, Sophie comes closer to revealing all: about herself, about Mina and about the secret they shared.
Diary Of A Haunting
By M. Verano
Published By: Simon Pulse on August 30th 2016
Genres: Horror, Young Adult, Paranormal
Pages: 336
Purchase: Amazon – Kindle

Synopsis:

Following her parents' high-profile divorce, Paige and her brother are forced to move to Idaho with their mother, and Paige doesn't have very high hopes for her new life. The small town they've moved to is nothing compared to the life she left behind in LA. And the situation is made even worse by the drafty old mansion they've rented that's filled with spiders and plenty of other pests that Paige can't even bear to imagine.

Pretty soon, strange things start to happen around the house—one can of ravioli becomes a dozen, unreadable words start appearing on the walls, and Paige's little brother begins roaming the house late at night. And there's something not right about the downstairs neighbor who seems to know a lot more than he's letting on.

Things only get creepier when she learns about the cult that conducted experimental rituals in the house almost one hundred years earlier. The more Paige investigates, the clearer it all becomes: there's something in the house, and whatever it is…and it won't be backing down without a fight.
Together At Midnight
By Jennifer Castle
Published By: HarperTeen on January 2nd 2018
Genres: Young Adult, Contemporary, Romance
Pages: 352
Purchase: Amazon – Kindle

Synopsis:

What does it really mean to be kind . . . and why does it sometimes feel like the hardest thing in the world to do? High school senior Kendall, who just returned from a life-changing semester in Europe, and Max, who is drifting his way through a gap year before college, struggle with these questions when they witness a tragic accident in New York City during the holiday season. Racked with guilt, the two accept a dare to perform random acts of kindness to strangers. The challenge pulls these two teens, who have a history together from back home, closer and closer as they explore a vibrant city filled with other people's stories and secrets.

Kendall and Max can't deny their growing bond, even though they both have other romantic entanglements and uncertain futures. As the clock counts down on New Year's Eve, will they find themselves together at midnight?
This Is How It Happened
By Paula Stokes
Published By: HarperTeen on July 11th 2017
Genres: Young Adult, Contemporary
Pages: 384
Purchase: Amazon – Kindle

Synopsis:

When Genevieve Grace wakes up from a coma, she can't remember the car crash that killed her boyfriend Dallas, a YouTube star turned teen music idol. Genevieve knows she was driving, and that there was another driver, a man named Bradley Freeman, who everyone assumes is guilty. But as she slowly pieces together the night of the accident, Genevieve is hit with a sickening sense of dread—that maybe she had something to do with it all.

As the internet rages against Bradley Freeman, condemning him in a brutal trial by social media, Genevieve escapes across the country to her father's house, where she can hide from intrusive reporters and spend the summer volunteering in beautiful Zion National Park. But she quickly realizes that she can't run away from the accident, or the terrible aftermath of it all. At some point, she'll have to deal with her role in what really happened, and the seemingly endless fallout for the man being blamed.
Queen Of Hearts
By Colleen Oakes
Published By: HarperTeen on May 3rd 2016
Genres: Fantasy, Young Adult, Retellings
Pages: 306
Purchase: Amazon – Kindle

Synopsis:

This is not the story of the Wonderland we know. Alice has not fallen down a rabbit hole. There is no all-knowing cat with a taunting smile. This is a Wonderland where beneath each smile lies a secret, each tart comes with a demand, and only prisoners tell the truth.

Dinah is the princess who will one day reign over Wonderland. She has not yet seen the dark depths of her kingdom; she longs only for her father's approval and a future with the boy she loves. But when a betrayal breaks her heart and threatens her throne, she is launched into Wonderland's dangerous political game. Dinah must stay one step ahead of her cunning enemies or she'll lose not just the crown but her head.

Evil is brewing in Wonderland and maybe, most frighteningly, in Dinah herself.

This is not a story of happily ever after.

This is the story of the Queen of Hearts.
A Tragic Kind Of Wonderful
By Eric Lindstrom
Published By: Poppy on February 7th 2017
Genres: Young Adult, Contemporary, Mental Illness
Pages: 288
Purchase: Amazon – Kindle

Synopsis:

For sixteen-year-old Mel Hannigan, bipolar disorder makes life unpredictable. Her latest struggle is balancing her growing feelings in a new relationship with her instinct to keep everyone at arm's length. And when a former friend confronts Mel with the truth about the way their relationship ended, deeply buried secrets threaten to come out and upend her shaky equilibrium.

As the walls of Mel's compartmentalized world crumble, she fears the worst—that her friends will abandon her if they learn the truth about what she's been hiding. Can Mel bring herself to risk everything to find out?
This Is Not The End
By Chandler Baker
Published By: Disney-Hyperion on August 8th 2017
Genres: Young Adult, Science Fiction, Contemporary
Pages: 384
Purchase: Amazon – Kindle

Synopsis:

On one cloudless, radiant summer afternoon, Lake Devereaux lost everything. The car crash claimed the lives of her best friend and boyfriend, the people who had become her family after her own fell apart. But she doesn't have to lose them both.

The development of resurrection technology has changed the world. Under the new laws regulating the process, each person gets one resurrection to be used or forfeited on their eighteenth birthday. Mere weeks away from turning eighteen, Lake faces an impossible choice.

Envisioning life without one of the people she loves most is shattering enough, but Lake carries an additional burden: years ago, under family pressure, Lake secretly—and illegally—promised her resurrection to someone who isn't even dead yet.

The search for answers about her future draws Lake more deeply into the secrets of her past until she begins to question everything about those closest to her. Betrayals and hurts both new and old threaten to eclipse the memories she once cherished.

Then Lake meets a boy unlike anyone she's encountered before, who unflinchingly embraces the darkest parts of her life . . . and who believes that all resurrections are wrong.

Which path is the right one? And how can Lake start to heal when she can't move on?
A List Of Cages
By Robin Roe
Published By: Disney-Hyperion on January 10th 2017
Genres: Young Adult, Contemporary, Fiction
Pages: 320
Purchase: Amazon – Kindle

Synopsis:

When Adam Blake lands the best elective ever in his senior year, serving as an aide to the school psychologist, he thinks he's got it made. Sure, it means a lot of sitting around, which isn't easy for a guy with ADHD, but he can't complain, since he gets to spend the period texting all his friends. Then the doctor asks him to track down the troubled freshman who keeps dodging her, and Adam discovers that the boy is Julian–the foster brother he hasn't seen in five years. Adam is ecstatic to be reunited. At first, Julian seems like the boy he once knew. He's still kind hearted. He still writes stories and loves picture books meant for little kids. But as they spend more time together, Adam realizes that Julian is keeping secrets, like where he hides during the middle of the day, and what's really going on inside his house. Adam is determined to help him, but his involvement could cost both boys their lives. First-time novelist Robin Roe relied on life experience when writing this exquisite, gripping story featuring two lionhearted characters.
Cruel Crown
By Victoria Aveyard
Published By: HarperTeen on January 5th 2016
Genres: Young Adult, Fantasy
Pages: 208
Purchase: Amazon – Kindle

Synopsis:

Queen Song

Queen Coriane, first wife of King Tiberias, keeps a secret diary—how else can she ensure that no one at the palace will use her thoughts against her? Coriane recounts her heady courtship with the crown prince, the birth of a new prince, Cal, and the potentially deadly challenges that lie ahead for her in royal life.

Steel Scars

Captain Farley was raised to be strong, but being tasked with planting the seeds of rebellion in Norta is a tougher job than expected. As she travels the land recruiting black market traders, smugglers, and extremists for her first attempt at an attack on the capital, she stumbles upon a connection that may prove to be the key to the entire operation—Mare Barrow.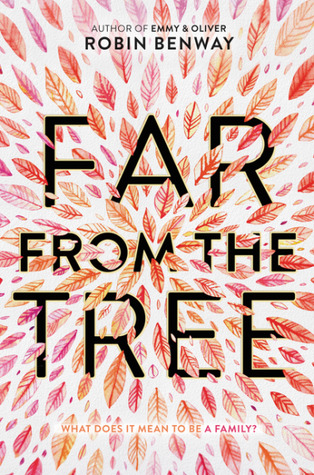 Far From The Tree
By Robin Benway
Published By: HarperTeen on October 3rd 2017
Genres: Young Adult, Contemporary, Fiction
Pages: 384
Purchase: Amazon – Kindle

Synopsis:

Being the middle child has its ups and downs.

But for Grace, an only child who was adopted at birth, discovering that she is a middle child is a different ride altogether. After putting her own baby up for adoption, she goes looking for her biological family, including—

Maya, her loudmouthed younger bio sister, who has a lot to say about their newfound family ties. Having grown up the snarky brunette in a house full of chipper redheads, she's quick to search for traces of herself among these not-quite-strangers. And when her adopted family's long-buried problems begin to explode to the surface, Maya can't help but wonder where exactly it is that she belongs.

And Joaquin, their stoic older bio brother, who has no interest in bonding over their shared biological mother. After seventeen years in the foster care system, he's learned that there are no heroes, and secrets and fears are best kept close to the vest, where they can't hurt anyone but him.
Hundreds
By Pepper Winters
Published By: CreateSpace Independent Publishing Platform on May 2nd 2017
Genres: Romance, Dark Romance
Pages: 320
Purchase: Amazon – Kindle

Synopsis:

Once upon a time, I wished to go home and forget.

Now, I'm strong and ready to fight.

Seduced and claimed, Elder no longer just demands my voice, he commands me to be a thief like him.

I refuse.

But he offers me things I shouldn't want, favours I should run from.

In return for his protection, I'm ordered to steal enough pennies and dollars to buy back my freedom.

Only, we both aren't prepared for how he changes me, evolves me.

And now it's my turn to learn about him…
Thousands
By Pepper Winters
Published By: CreateSpace Independent Publishing Platform on August 15th 2017
Genres: Romance, Dark Romance
Pages: 386
Purchase: Amazon – Kindle

Synopsis:

Once upon a time, I didn't think I'd ever be normal.

Now, I'm talking and trusting, and it's all thanks to Elder.

He gave me my life back, and I gave him my heart, but love stories like ours are never simple.

I did something to protect him.

He did something to survive me.

We screwed up.

And now, it's no longer just about us.

It's about safety, sanctuary, and sin.
Millions
By Pepper Winters
Published By: Createspace Independent Publishing Platform on November 22nd 2017
Genres: Romance, Dark Romance
Pages: 358
Purchase: Amazon – Kindle

Synopsis:

Once upon a time, I stupidly believed if I could make Elder fall for me, everything would be perfect. Now, I'm missing, and he's hunting, and everything is far from our happily ever after. He gave me his heart, and I gave him my promise, but true love isn't sacred to others. War is coming, disaster is brewing, and I'm not going down without a fight. Elder is mine. I am his. And no one can keep us apart.
Playlist For The Dead
By Michelle Falkoff
Published By: HarperTeen on October 25th 2016
Genres: Young Adult, Contemporary, Romance
Pages: 304
Purchase: Amazon – Kindle

Synopsis:

There was a party. There was a fight. The next morning, Sam's best friend, Hayden, was dead. And all he left Sam was a playlist of songs and a suicide note: For Sam—listen and you'll understand.

To figure out what happened, Sam has to rely on the playlist and his own memory. But the more he listens, the more he realizes that his memory isn't as reliable as he thought. And it might only be by taking out his earbuds and opening his eyes to the people around him that he'll finally be able to piece together his best friend's story. And maybe have a chance to change his own.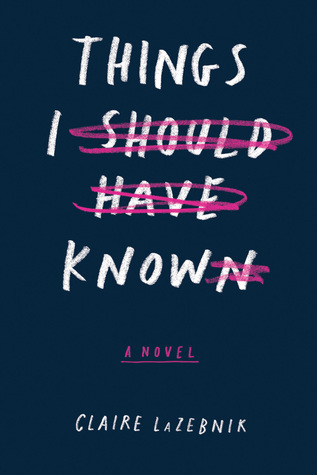 Things I Should Have Known
By Claire Lazebnik
Published By: HMH Books for Young Readers on March 28th 2017
Genres: Young Adult, Contemporary, Romance
Pages: 320
Purchase: Amazon – Kindle

Synopsis:

Meet Chloe Mitchell, a popular Los Angeles girl who's decided that her older sister, Ivy, who's on the autism spectrum, could use a boyfriend. Chloe already has someone in mind: Ethan Fields, a sweet, movie-obsessed boy from Ivy's special needs class.

Chloe would like to ignore Ethan's brother, David, but she can't—Ivy and Ethan aren't comfortable going out on their own, so Chloe and David have to tag along. Soon Chloe, Ivy, David, and Ethan form a quirky and wholly lovable circle. And as the group bonds over frozen-yogurt dates and movie nights, Chloe is forced to confront her own romantic choices—and the realization that it's okay to be a different kind of normal.
A Line In The Dark
By Malinda Lo
Published By: Dutton Books for Young Readers on October 17th 2017
Genres: Young Adult, Mystery, LGBtQ+, Contemporary
Pages: 288
Purchase: Amazon – Kindle

Synopsis:

Jess Wong is Angie Redmond's best friend. And that's the most important thing, even if Angie can't see how Jess truly feels. Being the girl no one quite notices is OK with Jess anyway. While nobody notices her, she's free to watch everyone else. But when Angie begins to fall for Margot Adams, a girl from the nearby boarding school, Jess can see it coming a mile away. Suddenly her powers of observation are more curse than gift.

As Angie drags Jess further into Margot's circle, Jess discovers more than her friend's growing crush. Secrets and cruelty lie just beneath the carefree surface of this world of wealth and privilege, and when they come out, Jess knows Angie won't be able to handle the consequences.

When the inevitable darkness finally descends, Angie will need her best friend.
Things I'm Seeing Without You
By Peter Bognanni
Published By: Dial Books on October 3rd 2017
Genres: Young Adult, Contemporary, Fiction
Pages: 336
Purchase: Amazon – Kindle

Synopsis:

Seventeen-year-old Tess Fowler has just dropped out of high school. She can barely function after learning of Jonah's death. Jonah, the boy she'd traded banter with over texts and heartfelt e-mails.

Jonah, the first boy she'd told she loved and the first boy to say it back.

Jonah, the boy whose suicide she never saw coming.

Tess continues to write to Jonah, as a way of processing her grief and confusion. But for now she finds solace in perhaps the unlikeliest of ways: by helping her father with his new alternative funeral business, where his biggest client is . . . a prized racehorse?

As Tess's involvement in her father's business grows, both find comfort in the clients they serve and in each other. But love, loss, and life are so much more complicated than Tess ever thought. Especially after she receives a message that turns her life upside down.
Rules Of Rain
By Leah Scheier
Published By: Sourcebooks Fire December 5th 2017
Genres: Contemporary, Romance, Young Adult
Pages: 384
Purchase: Amazon – Kindle

Synopsis:

Rain has taken care of Ethan all of her life. Before she even knew what autism meant, she's been her twin brother's connection to the hostile world around him. She's always prepared—when her father abandons them, when her mother gets sick, when Ethan is tortured by bullies from school—Rain is the reliable, stable one holding them all together. She's both cautious carer and mad chef, preparing customized meals for her family and posting crazy recipes on her cooking blog.

Each day with Ethan is unvarying and predictable, and she's sure that nothing will ever change—until one night when her world is turned upside down by a mistake she can't take back. As her new romance with her long-time crush and her carefully constructed life begins to unravel, she discovers that the fragile brother whom she's always protected has grown into a young man who no longer needs her. And now, for the first time, she finds that she needs him.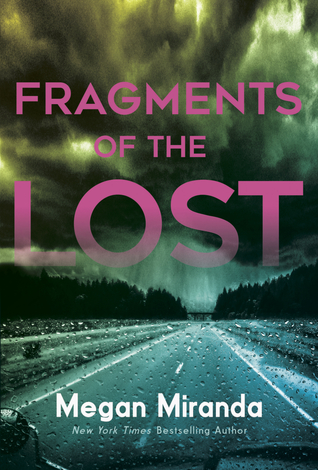 Fragments Of The Lost
By Megan Miranda
Published By: Crown Books for Young Readers on November 14th 2017
Genres: Mystery, Young Adult, Contemporary
Pages: 373
Purchase: Amazon – Kindle

Synopsis:

Jessa Whitworth knew she didn't belong in her ex-boyfriend Caleb's room. But she couldn't deny that she was everywhere–in his photos, his neatly folded T-shirts, even the butterfly necklace in his jeans pocket . . . the one she gave him for safe keeping on that day.

His mother asked her to pack up his things–even though she blames Jessa for his accident. How could she say no? And maybe, just maybe, it will help her work through the guilt she feels about their final moments together.

But as Jessa begins to box up the pieces of Caleb's life, they trigger memories that make Jessa realize their past relationship may not be exactly as she remembered. And she starts to question whether she really knew Caleb at all.

Each fragment of his life reveals a new clue that propels Jessa to search for the truth about Caleb's accident. What really happened on the storm-swept bridge?
Salt & Storm
By Kendall Kulper
Published By: Little, Brown Books for Young Readers on September 23rd 2014
Genres: Fantasy, Young Adult, Historical Fiction
Pages: 398
Purchase: Amazon – Kindle

Synopsis:

Avery Roe wants only to claim her birthright as the witch of Prince Island and to make the charms that have kept the island's sailors safe at sea for generations, but instead she is held prisoner by her mother in a magic-free life of proper manners and respectability.

Avery thinks escape is just a matter of time, but when she has a harrowing nightmare, she can see what it means: She will be killed. She will be murdered. And she's never been wrong before.

Desperate to change her future, Avery finds a surprising ally in Tane—a tattooed harpoon boy with magic of his own, who moves her in ways she never expected. But as time runs out to unlock her magic and save herself, Avery discovers that becoming a witch requires unimaginable sacrifice.

Avery walks the knife's edge between choice and destiny in Kendall Kulper's sweeping debut: the story of one girl's fight to survive the rising storm of first love and family secrets.
Vampires Of Manhattan
By Melissa De La Cruz
Published By: Hyperion Books on September 9th 2014
Genres: Paranormal, Fantasy, Young Adult
Pages: 225
Purchase: Amazon – Kindle

Synopsis:

Hero of this sexy, paranormal action tale is Oliver Hazard-Perry, former human conduit, and Manhattan's only human-turned-vampire, now the head of the Blue Bloods Coven. When his all-too-human lover is found murdered on the eve of the coven's annual Four Hundred Ball–a celebration meant to usher in a new era in vampire society, and to mark the re-unification of the Coven after decades of unrest and decay–Oliver is devastated.

Now, not only is he trying to create a new world order for the immortal elite, he's the prime suspect and is stalked by the newly installed head of the vampire secret police. Because according to the new rules, vampires who take human life can now be executed. Burned.

How can an immortal sentenced to die fight back? He has to find the killer–and the answers lie deep in vampire lore.