I definitely bought more books than I wanted to. And I definitely did another theme change, as you can tell halfway through this post. I'm pretty proud of myself though. I didn't buy more than twenty books this month!!!
What was your favorite purchase for the month of November?
I am also aware that I didn't involve It in the picture above. I forgot about it and I didn't feel like taking another one because it was such a pain to take that one >.>

It
By Stephen King
Published By: Hodder in September 1986
Genres: Horror, Thriller, Fiction
Pages: 1166
Purchase: Amazon – Kindle

Synopsis:

Derry, Maine is just an ordinary town: familiar, well-ordered for the most part, a good place to live.

It is a group of children who see – and feel – what makes Derry so horribly different. In the storm drains, in the sewers, IT lurks, taking on the shape of every nightmare, each one's deepest dread. Sometimes IT appears as an evil clown named Pennywise and sometimes IT reaches up, seizing, tearing, killing…

Time passes and the children grow up, move away and forget. Until they are called back, once more to confront IT as IT stirs and coils in the sullen depths of their memories, emerging again to make their past nightmares a terrible present reality.
Blush
By Lauren Jameson
Published By: NAL Trade on April 24th 2013
Genres: Adult Fiction, Romance, Erotica
Pages: 304
Purchase: Amazon – Kindle

Synopsis:

Madeline Stone is determined to heal from her tragic past, one difficult step at a time…and she doesn't need any distractions. Then she meets a mysterious and captivating stranger—and over a glass of outrageously expensive wine, her world turns upside down. Try as she might to banish the wealthy business mogul from her thoughts, Madeline can't fight Alex's staggering appeal or his enticing offer of intimate discovery.

Alex doesn't date—at least, not in the traditional sense. Still, he wants Madeline …and his sexual intensity provides her with a much-needed escape. They embark on a tumultuous erotic affair, one that takes them to the pinnacle of obsession and desire. But underneath each explosive encounter lie dangerous secrets waiting to consume them both.…
Bad Girls With Perfect Faces
By Lynn Weingarten
Published By: Simon Pulse on October 31st 2017
Genres: Young Adult, Contemporary, Mystery
Pages: 320
Purchase: Amazon – Kindle

Synopsis:

hen Sasha's best friend Xavier gets back together with his cheating ex, Ivy, Sasha knows she needs to protect him. So she poses as a guy online to lure Ivy away.

But Sasha's plan goes sickeningly wrong. And she soon learns to be careful of who you pretend to be because you might be surprised by who you become…

Told in multiple points of view, Bad Girls with Perfect Faces is sexy and twisted with shocks at every turn.
The Secret History Of Us
By Jessi Kirby
Published By: HarperTeen on August 1st 2017
Genres: Young Adult, Contemporary, Romance
Pages: 288
Purchase: Amazon – Kindle

Synopsis:

When Olivia awakes in a hospital bed following a near-fatal car accident, she can't remember how she got there. She figures it's because she was in a coma for a week, but as time goes on, she realizes she's lost more than just the last week of her life—she's lost all memory of events that happened years ago. Gone is any recollection of starting or graduating high school; the prom; or her steady boyfriend Matt. Trying to figure out who she is feels impossible when everyone keeps telling her who she was.

As Liv tries to sort out her family and friends' perceptions of her, the one person she hasn't heard enough from is Walker, the guy who saved her the night her car was knocked off that bridge into the bay below. Walker is the hardened boy who's been keeping his distance and the one person that has made Liv feel like her old self…whoever that is. With feelings growing for Walker, tensions rising with Matt, and secrets she can't help but feel are being kept from her, Olivia must find her place in a life she doesn't remember living.
Snapshot
By Angie Stanton
Published By: HarperTeen on June 10th 2012
Genres: Young Adult, Contemporary, Romance
Pages: 416
Purchase: Amazon – Kindle

Synopsis:

Marti Hunter just wants a normal life. After dealing with her cool-but-clueless rock legend father and absentee mother, she only wants some peace . . . and fun. And that includes a summer studying photography at an exclusive arts camp.

For Adam Jamieson, a normal life is not possible–not when he is the lead guitarist in a rock band with his brothers. So he's thrilled to finally have an opportunity to disguise himself and live like a regular teenager at summer camp.

And when Adam meets Marti, sparks fly. Between romantic bonfires and stolen kisses, they are inseparable.

Then Marti discovers who Adam truly is, and her world is turned upside down. Ever since her father left her, she vowed never to fall for a rocker. But when tragedy strikes, Marti is forced to look within. And she discovers that maybe falling in love with a rock star is not so crazy after all.
A Short History Of The Girl Next Door
By Jared Reck
Published By: Knopf Books for Young Readers on September 26th 2017
Genres: Young Adult, Contemporary, Romance
Pages: 272
Purchase: Amazon – Kindle

Synopsis:

The unrequited love of the girl next door is the centerpiece of this fiercely funny, yet heart-breaking debut novel.

Fifteen-year-old Matt Wainwright is in turmoil. He can't tell his lifelong best friend, Tabby, how he really feels about her; his promising basketball skills are being overshadowed by his attitude on the court, and the only place he feels normal is in English class, where he can express his inner thoughts in quirky poems and essays. Matt is desperately hoping that Tabby will reciprocate his feelings; but then Tabby starts dating Liam Branson, senior basketball star and all-around great guy. Losing Tabby to Branson is bad enough; but, as Matt soon discovers, he's close to losing everything that matters most to him.
Alone
By Cyn Balog
Published By: Sourcebooks Fire on November 7th 2017
Genres: Young Adult, Horror
Pages: 278
Purchase: Amazon – Kindle

Synopsis:

When her mom inherits an old, crumbling mansion, Seda's almost excited to spend the summer there. The grounds are beautiful and it's fun to explore the sprawling house with its creepy rooms and secret passages. Except now her mom wants to renovate, rather than sell the estate—which means they're not going back to the city…or Seda's friends and school.

As the days grow shorter, Seda is filled with dread. They're about to be cut off from the outside world, and she's not sure she can handle the solitude or the darkness it brings out in her.

Then a group of teens get stranded near the mansion during a blizzard. Seda has no choice but to offer them shelter, even though she knows danger lurks in the dilapidated mansion—and in herself. And as the snow continues to fall, what Seda fears most is about to become her reality…
A Little Too Late
By Staci Hart
Published By: CreateSpace Independent Publishing Platform on October 9th 2017
Genres: Romance, Contemporary
Pages: 250
Purchase: Amazon – Kindle

Synopsis:

I wasn't supposed to fall in love with the nanny.

When my wife left, she took the illusion of happiness with her, and I've been caught in a free fall ever since. For nine long months, I've been fighting to figure out how to be a single dad, how to be alone.

For nine long months, I've been failing.

When Hannah walked through the door, I took my first breath since I'd found myself on my own. She slipped into our lives effortlessly, showing me what I've been missing all these years. Because Hannah made me smile when I thought I'd packed the notion of happiness away with my wedding album.

She was only supposed to be the nanny, but she's so much more.

The day my wife left should have been the worst day of my life, but it wasn't. It was when Hannah walked away, taking my heart with her.
Broken
By Megan Hart
Published By: Harlequin MIRA on September 4th 2014
Genres: Romance, Adult Fiction, Contemporary
Pages: 384
Purchase: Amazon – Kindle

Synopsis:

This month my name is Mary.

My name is different every month—Brandy, Honey, Amy…sometimes Joe doesn't even bother to ask—but he never fails to arouse me with his body, his mouth, his touch, no matter what I'm called or where he picks me up. The sex is always amazing, always leaves me itching for more in those long weeks until I see him again.

My real name is Sadie, and once a month over lunch Joe tells me about his latest conquest. But what Joe doesn't know is that in my mind, I'm the star of every X-rated one-night stand he has revealed to me, or that I'm practically obsessed with our imaginary sex life. I know it's wrong. I know my husband wouldn't understand. But I can't stop. Not yet.
Flying
By Megan Hart
Published By: Harlequin MIRA on April 29th 2014
Genres: Romance, Adult Fiction, Contemporary
Pages: 384
Purchase: Amazon – Kindle

Synopsis:

Ever hear of wanderlust? Every other weekend, Stella buys a ticket on the next flight out of town and leaves her life behind. Home is a place with too many memories, and departure is the sweetest possible distraction. As soon as she arrives at her destination, Stella visits the airport bar. She orders a drink and waits for the right guy to come along. A bored businessman, a backpacker, a baggage handler just off shift. If he's into a hot, no-strings hookup, he's perfect. Each time is a thrilling escape from reality that gives the term layover a whole new meaning.

When Stella meets the enigmatic Matthew in Chicago one weekend, she hits some serious turbulence. Something about him tells her she's not the only one running from the past. The connection between them is explosive, and for the first time, one taste is not enough for Stella. But returning to find a gorgeous man waiting for her is the easy part – facing the reason she's there is a whole other matter.
The Strange And Beautiful Sorrows Of Ava Lavender
By Leslye Walton
Published By: Walker Books Ltd on October 1st 2014
Genres: Young Adult, Fantasy, Magical Realism
Pages: 300
Purchase: Amazon – Kindle

Synopsis:

Love makes us such fools…

Pain in love appears to be a Roux family birthright, and for Ava Lavender, a girl born with the wings of a bird, it is key to her inheritance.

Longing to fit in with her peers, Ava ventures away from home, ill-prepared for what awaits her in a world that does not know whether to view her as girl or angel.

Ava's quest and her family's saga build to a devastating crescendo until, on the summer solstice, the skies open up, rain and feathers fill the air and Ava's fate is revealed.

A mesmerizing, lyrical tale of longing, desire and the nature of love.
Truthwitch
By Susan Dennard
Published By: Tor Teen on January 3rd 2017
Genres: Young Adult, Fantasy
Pages: 432
Purchase: Amazon – Kindle

Synopsis:

In a continent on the edge of war, two witches hold its fate in their hands.

Young witches Safiya and Iseult have a habit of finding trouble. After clashing with a powerful Guildmaster and his ruthless Bloodwitch bodyguard, the friends are forced to flee their home.

Safi must avoid capture at all costs as she's a rare Truthwitch, able to discern truth from lies. Many would kill for her magic, so Safi must keep it hidden – lest she be used in the struggle between empires. And Iseult's true powers are hidden even from herself.

In a chance encounter at Court, Safi meets Prince Merik and makes him a reluctant ally. However, his help may not slow down the Bloodwitch now hot on the girls' heels. All Safi and Iseult want is their freedom, but danger lies ahead. With war coming, treaties breaking and a magical contagion sweeping the land, the friends will have to fight emperors and mercenaries alike. For some will stop at nothing to get their hands on a Truthwitch.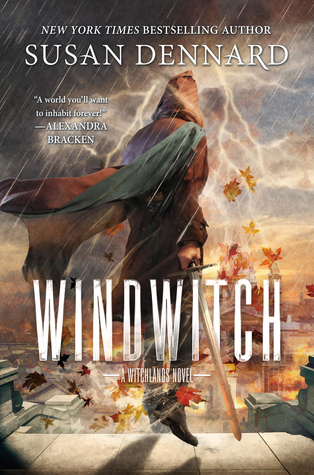 Windwitch
By Susan Dennard
Published By: Tor Teen on January 10th 2017
Genres: Young Adult, Fantasy
Pages: 384
Purchase: Amazon – Kindle

Synopsis:

Sometimes our enemies are also our only allies…

After an explosion destroys his ship, the world believes Prince Merik, Windwitch, is dead. Scarred yet alive, Merik is determined to prove his sister's treachery. Upon reaching the royal capital, crowded with refugees, he haunts the streets, fighting for the weak—which leads to whispers of a disfigured demigod, the Fury, who brings justice to the oppressed.

When the Bloodwitch Aeduan discovers a bounty on Iseult, he makes sure to be the first to find her—yet in a surprise twist, Iseult offers him a deal. She will return money stolen from him, if he locates Safi. Now they must work together to cross the Witchlands, while constantly wondering, who will betray whom first?

After a surprise attack and shipwreck, Safi and the Empress of Marstok barely escape with their lives. Alone in a land of pirates, every moment balances on a knife's edge—especially when the pirates' next move could unleash war upon the Witchlands.
Under Rose-Tainted Skies
By Louise Gornall
Published By: Clarion Books on January 3rd 2017
Genres: Young Adult, Mental Illness, Romance
Pages: 330
Purchase: Amazon – Kindle

Synopsis:

At seventeen, Norah has accepted that the four walls of her house delineate her life. She knows that fearing everything from inland tsunamis to odd numbers is irrational, but her mind insists the world outside is too big, too dangerous. So she stays safe inside, watching others' lives through her windows and social media feed.

But when Luke arrives on her doorstep, he doesn't see a girl defined by medical terms and mental health. Instead, he sees a girl who is funny, smart, and brave. And Norah likes what he sees.

Their friendship turns deeper, but Norah knows Luke deserves a normal girl. One who can walk beneath the open sky. One who is unafraid of kissing. One who isn't so screwed up. Can she let him go for his own good—or can Norah learn to see herself through Luke's eyes?
Dreamers Often Lie
By Jacqueline West
Published By: Dial Books on April 5th 2016
Genres: Young Adult, Retellings, Contemporary
Pages: 368
Purchase: Amazon – Kindle

Synopsis:

Jaye wakes up from a skiing accident with a fractured skull, a blinding headache, and her grip on reality sliding into delusion. Determined to get back to her starring role in the school production of A Midsummer Night's Dream, Jaye lies to her sister, her mom, her doctors. She's fine, she says. She's fine. If anyone knew the truth – that hallucinations of Shakespeare and his characters have followed her from her hospital bed to the high school halls – it would all be over. She's almost managing to pull off the act when Romeo shows up in her anatomy class. And it turns out that he's 100% real. Suddenly Jaye has to choose between lying to everyone else and lying to herself.

Troubled by the magnetic new kid, a long-lost friend turned recent love interest, and the darkest parts of her family's past, Jaye's life tangles with Shakespeare's most famous plays until she can't tell where truth ends and pretending begins. Soon, secret meetings and dizzying first kisses give way to more dangerous things. How much is real, how much is in Jaye's head, and how much does it matter as she flies toward a fate over which she seems to have no control?
Passenger
By Alexandra Bracken
Published By: Quercus Children's Books on April 7th 2016
Genres: Young Adult, Fantasy, Romance
Pages: 486
Purchase: Amazon – Kindle

Synopsis:

In one devastating night, Etta Spencer loses everything she knows and loves. Thrust into an unfamiliar world by a stranger with a dangerous agenda, Etta is certain of only one thing: she has travelled not just miles but years from home.

Nicholas Carter is content with his life at sea, free from the Ironwoods – a powerful family in the Colonies – and the servitude he's known at their hands. But with the arrival of an unusual passenger on his ship comes the insistent pull of the past that he can't escape and the family that won't let him go. Now the Ironwoods are searching for a stolen object of untold value, one they believe only Etta, his passenger, can find.

Together, Etta and Nicholas embark on a perilous journey across centuries and continents, piecing together clues left behind by the traveller who will do anything to keep the object out of the Ironwoods' grasp. But as they get closer to their target, treacherous forces threaten to separate Etta not only from Nicholas but from her path home forever.
All The Ugly And Wonderful Things
By Bryn Greenwood
Published By: Thomas Dunne Book for St. Martin's Griffin on October 3rd 2017
Genres: Fiction, Contemporary, Romance
Pages: 432
Purchase: Amazon – Kindle

Synopsis:

As the daughter of a meth dealer, Wavy knows not to trust people, not even her own parents. Struggling to raise her little brother, eight-year-old Wavy is the only responsible "adult" around. She finds peace in the starry Midwestern night sky above the fields behind her house. One night everything changes when she witnesses one of her father's thugs, Kellen, a tattooed ex-con with a heart of gold, wreck his motorcycle. What follows is a powerful and shocking love story between two unlikely people that asks tough questions, reminding us of all the ugly and wonderful things that life has to offer.