I didn't read much in September. With all the stress from the hurricane and working two jobs around that, it was tough. I'm trying to get back on my reading game though!

This Is Where It Ends
By Marieke Nijkamp
Published By: Sourcebooks Fire on January 5th 2016
Genres: Young Adult, Contemporary
Pages: 285
Purchase: Amazon – Kindle
Rating: ☆☆☆

10:00 a.m. The principal of Opportunity High School finishes her speech, welcoming the entire student body to a new semester and encouraging them to excel and achieve.

10:02 a.m. The students get up to leave the auditorium for their next class.

10:03 a.m. The auditorium doors won't open.

10:05 a.m. Someone starts shooting.

Told from four different perspectives over the span of fifty-four harrowing minutes, terror reigns as one student's calculated revenge turns into the ultimate game of survival.
Dating You/Hating You
By Christina Lauren
Published By: Gallery Books on June 6th 2017
Genres: Romance, Adult, Contemporary
Pages: 350
Purchase: Amazon – Kindle
Rating: ☆☆☆☆

Despite the odds against them from an embarrassing meet-awkward at a mutual friend's Halloween party, Carter and Evie immediately hit it off. Even the realization that they're both high-powered agents at competing firms in Hollywood isn't enough to squash the fire.

But when their two agencies merge—causing the pair to vie for the same position—all bets are off. What could have been a beautiful, blossoming romance turns into an all-out war of sabotage. Carter and Evie are both thirtysomething professionals—so why can't they act like it?

Can Carter stop trying to please everyone and see how their mutual boss is really playing the game? Can Evie put aside her competitive nature long enough to figure out what she really wants in life? Can their actor clients just be something close to human? Whether these two Hollywood love/hatebirds get the storybook Hollywood ending or just a dramedy of epic proportions, you will get to enjoy Christina Lauren's heartfelt, raucous, and hilarious romance style at its finest.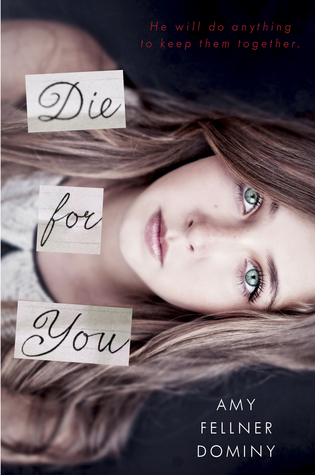 Die For You
By Amy Fellner Dominy
Published By: Delacorte on November 8th 2016
Genres: Young Adult, Contemporary, Romance
Pages: 304
Purchase: Amazon – Kindle
Rating: ☆☆☆☆☆

Theirs was the perfect love story.

After Emma Lorde's parents' divorce forces her to move halfway across the state of Arizona to live with her father, Emma must face her senior year in a new school knowing absolutely no one.

Then she meets Dillon Hobbs, and something just clicks.

Dillon introduces Emma to friends she can call her own. He provides a refuge from the chaos of her past, and the security of a commitment that he promises will last forever. And because circumstances of her messy life forced Emma to put aside her dream of pursuing archaeology, Dillon creates a blueprint for a future together.

He saves her, over and over, by loving her more than she thought anyone ever would.

But just when everything seems picture-perfect, Emma is offered an opportunity that will upend the future they've planned. Uncertainty grows, and fear spirals into something darker.

Now Dillon is the one who needs saving.

But how much do you sacrifice for the one you love? What if saving Dillon means losing herself?