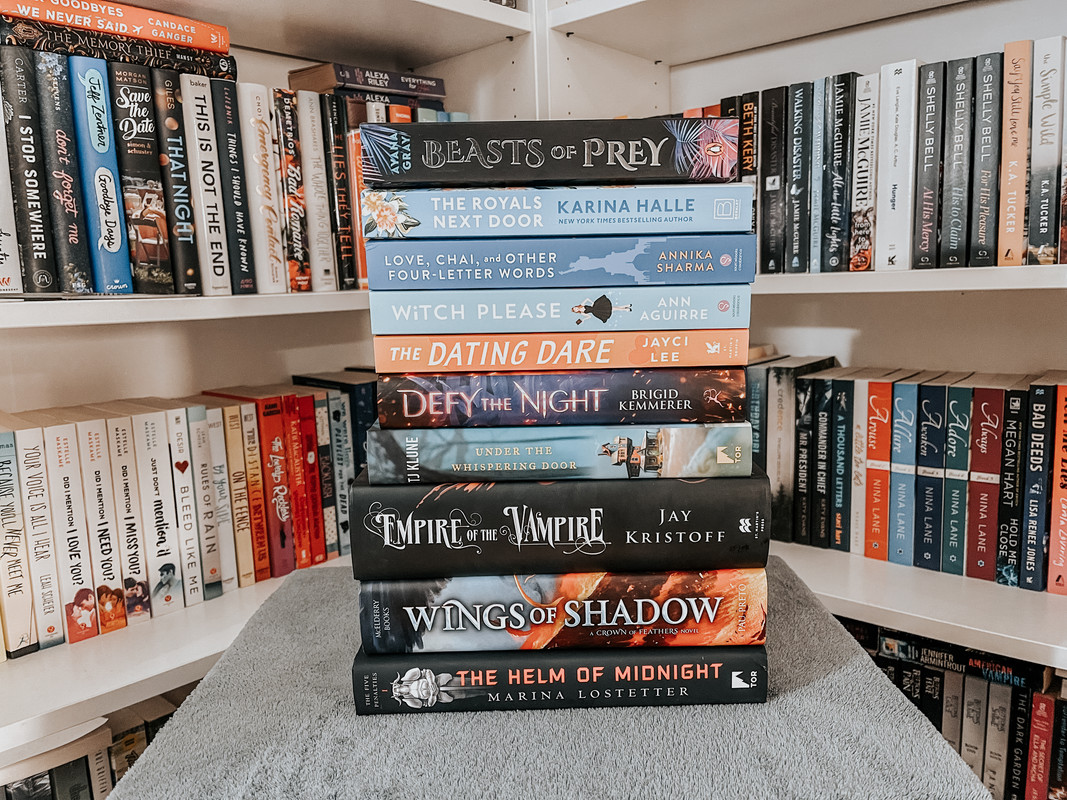 Hello and welcome back to my blog! Today, I'm bringing you my September book haul. Let's face it, buying books and reading books are two separate hobbies. You cannot change my mind. 
I'm pretty happy with this haul this month. It's mostly romance! I do like fantasy… I promise I do. I just love romance more. For the longest time, I was forcing myself to read mostly fantasy because I thought I would be judged for loving romance.
I no longer care about what people think and I'm going to read what I want to read. 
Empire of The Vampire by Jay Kristoff
Love, Chai, and Other Four-Letter Words by Annika Sharma
The Royals Next Door by Karina Halle
The Dating Dare by Jayci Lee
Witch Please by Ann Aguire
Under The Whispering Door by T.J. Klune
The Helm of Midnight by Marina J. Lostetter
Wings Of Shadow by Nicki Pau Preto
First Love, Take Two by Sajni Patel
For Love Or Honey by Staci Hart
On Location by Sarah Smith
Iron Widow by Xiran Jay Zhao
The Bones Of Ruin by Sarah Raughley
A Lot Like Adios by Alexis Daria
With You Forever by Chloe Liese
The Meeting Point by Olivia Lara
Portrait Of A Scotsman by Evie Dunmore
A Spot Of Trouble by Teri Wilson
Dark And Shallow Lies by Ginny Myers Sain
The Shaadi Set-Up by Lillie Vale
The Spanish Love Deception by Elena Armas
I Kissed A Girl by Jennet Alexander
Once Upon A Broken Heart by Stephanie Garber
The Ex Hex by Erin Sterling
Beasts Of Prey by Ayana Gray
The Last Graduate by Naomi Novik
The Matzah Ball by Jean Meltzer
Defy The Night by Brigid Kemmerer
What books did you get this month?