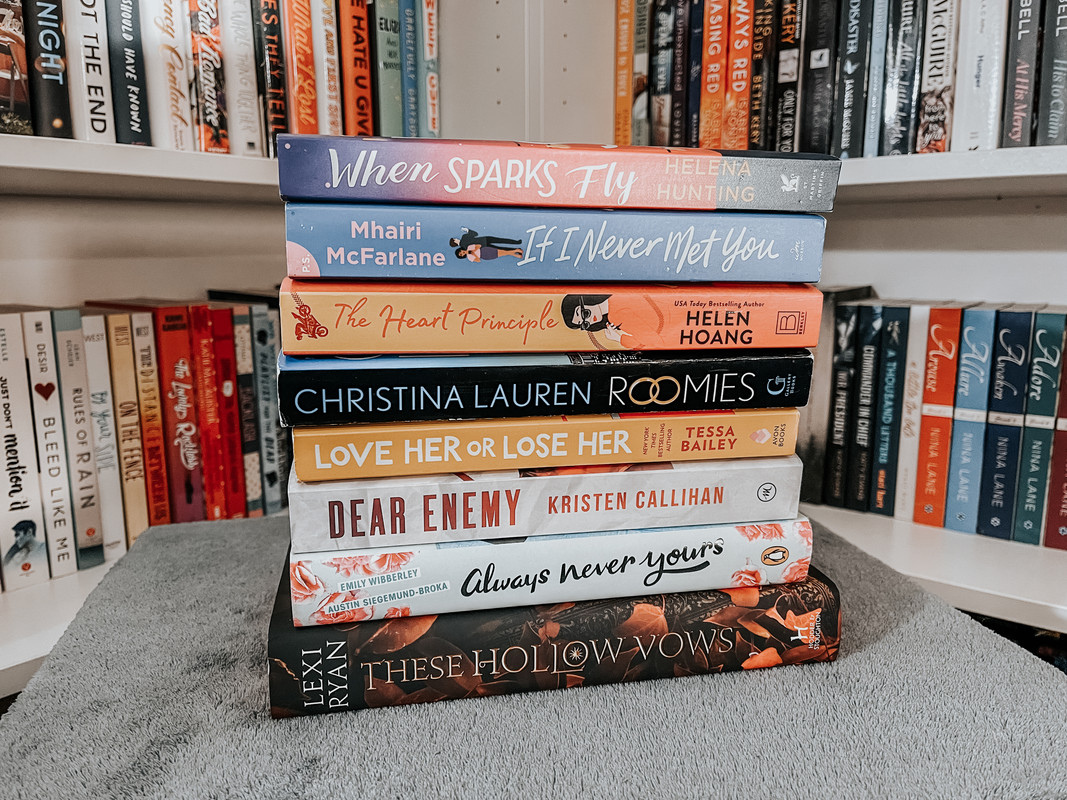 I have obviously taken another break from blogging. I kind of just want to blog when I feel like it, I guess. I'm going to try very hard to keep up with it so that I don't have a lot of catching up to do. 
I'd have to say I had a pretty decent reading month! My favorite read definitely has to be The Heart Principle. That book destroyed my heart. 
Dear Enemy by Kristen Callihan: This book was alright. It was a super slow burn and there were times I was a bit bored. It's supposed to be enemies-to-lovers but I wasn't really feeling those vibes. Also, it was a bit too long. ⭐⭐⭐
Love Her Or Lose Her by Tessa Bailey: I freaking adored this book. It's one of the few books where the two main characters are already married. They're just trying to save their marriage. Tessa Bailey just threw this one out of the water! (is that the correct saying?) ⭐⭐⭐⭐
Roomies by Christina Lauren: I love a good book with the marriage of convenience plot! I really loved this book. I honestly think Christina Lauren can do no wrong. Their books always grip me immediately. ⭐⭐⭐⭐
The Heart Principle by Helen Hoang: Oh boy. This book broke my heart into ten million pieces and slowly mended it back together. I can understand why it took Helen Hoang so long to release this book. It's a masterpiece. I cried like a baby. ⭐⭐⭐⭐⭐
These Hollow Vows by Lexi Ryan: This book reminded me so much of A Court Of Thorns and Roses. Only it's actually YA and not adult in disguise. I really enjoyed this book. I'm impatient for the next one. I'm dying to know what happens next! ⭐⭐⭐⭐
Always Never Yours by Emily Wibberly & Austin Siegemund-Broka: I really wanted to love this book. I honestly feel like their YA books won't ever get five stars from me. I'm hoping they maybe get into adult books soon… This book just felt kind of meh. ⭐⭐⭐
Merciless by Willow Winters: I'm back on my dark romance shit. I was really hoping that I was going to be addicted to this. I was not. I honestly wouldn't even call this dark. I mean, sketchy stuff happens but it's not very dark at all. I will try and finish this entire series in hopes that I will fall in love with it. ⭐⭐⭐⭐
If I Never Met You by Mhairi McFarlane: This romance novel was too long. It was too drawn out. It would have been perfect if it didn't take me four days to listen to this audiobook! I will definitely pick up more books by this author though because I do enjoy her writing style. ⭐⭐⭐
When Sparks Fly by Helena Hunting: This book was perfect. I read it in less than 24 hours. I was obsessed. I didn't want to put it down. Helena Hunting is definitely one of my favorite romance authors! ⭐⭐⭐⭐⭐
What books did you read in September? What was your favorite?