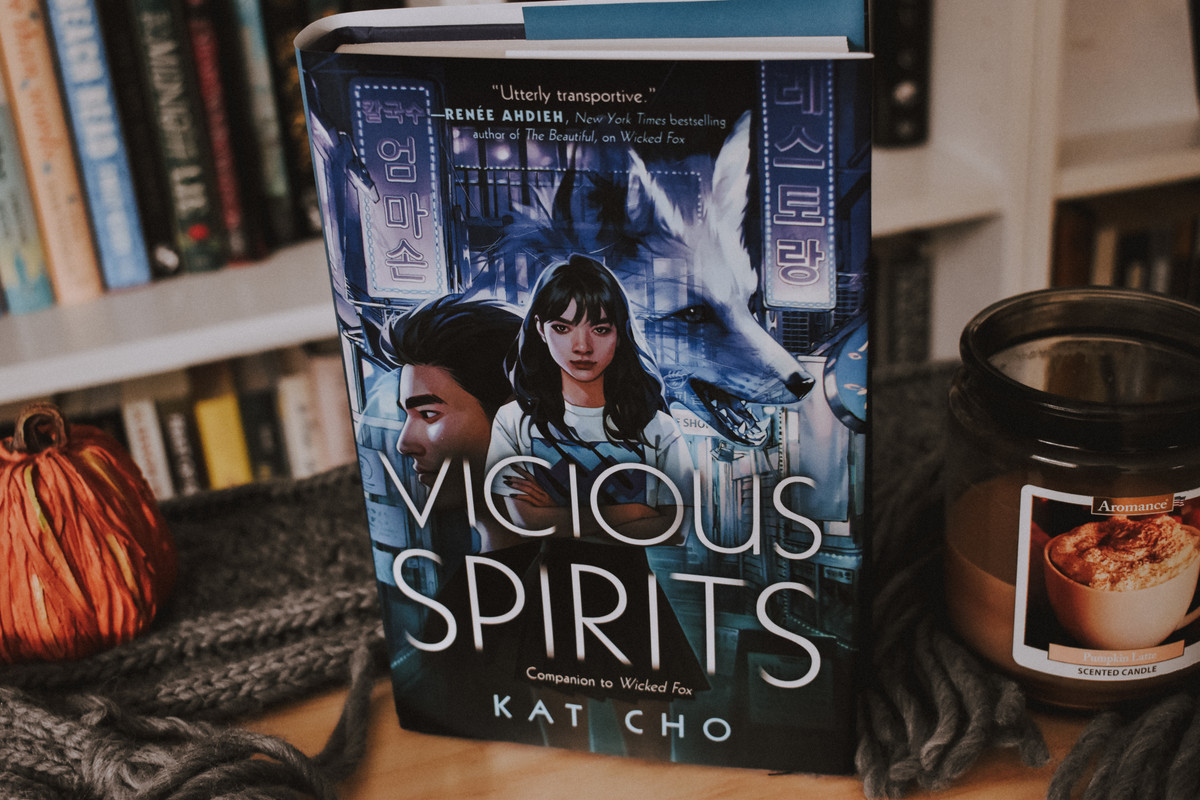 Vicious Spirits
(Gumiho #2)
Kat Cho
Published by G.P. Putnam's Sons Books for Young Readers on August 18th, 2020
429 Pages
Goodreads ~ Amazon ~ Kindle ~ Audiobook ~ Book Depository
Synopsis:
After the events of Wicked Fox, Somin is ready to help her friends pick up the pieces of their broken lives and heal. But Jihoon is still grieving the loss of his grandmother, and Miyoung is distant as she grieves over her mother's death and learns to live without her fox bead. The only one who seems ready to move forward is their not-so-favorite dokkaebi, Junu.
Somin and Junu didn't exactly hit it off when they first met. Somin thought he was an arrogant, self-serving conman. Junu was, at first, amused by her hostility toward him until he found himself inexplicably drawn to her. Somin couldn't deny the heat of their attraction. But as the two try to figure out what could be between them, they discover their troubles aren't over after all. The loss of Miyoung's fox bead has caused a tear between the world of the living and the world of the dead, and ghosts are suddenly flooding the streets of Seoul. The only way to repair the breach is to find the missing fox bead or for Miyoung to pay with her life. With few options remaining, Junu has an idea but it might require the ultimate sacrifice. In usual fashion, Somin may have a thing or two to say about that.
In Vicious Spirits, Kat Cho delivers another beguiling and addictive listen full of otherworldly dangers and romance.
---
My Review:
I don't want to go into detail of what this book as about as it might spoil things that happen in Wicked Fox. I would like to say that I didn't enjoy it as much as WF. It makes me sad because this is one of my most anticipated releases for 2020.
Vicious Spirits directly follows the ending of Wicked Fox. You don't necessarily have to read the first book to read this one. Although, I would highly recommend that you do. There are key events in WF that are mentioned in VS constantly.
I feel like the main reason why I didn't like this book as much as Wicked Fox is because of Junu. I didn't really care for the dokkaebi in the first book and I didn't really like him in this book. He's kind of annoying and I don't think he really deserved that redemption he got.
I think this book would have been fine at 300 pages. It went on too long at times and some things felt unnecessary.
It did have some good parts though! I love Somin, Miyoung and Jihoon. The split between the ghost world and the human world was very interesting and I wish there was more about it. I kinda wish that everything get really bad to where they didn't think they were going to be able to fix it.
Unfortunately, like almost every other book, the problem was fixed quite easily.
I hope Kat Cho doesn't make any more books in the Gumiho series. Not that I hate them, but there's only so many times you can keep writing about the same series. I hope she branches out!