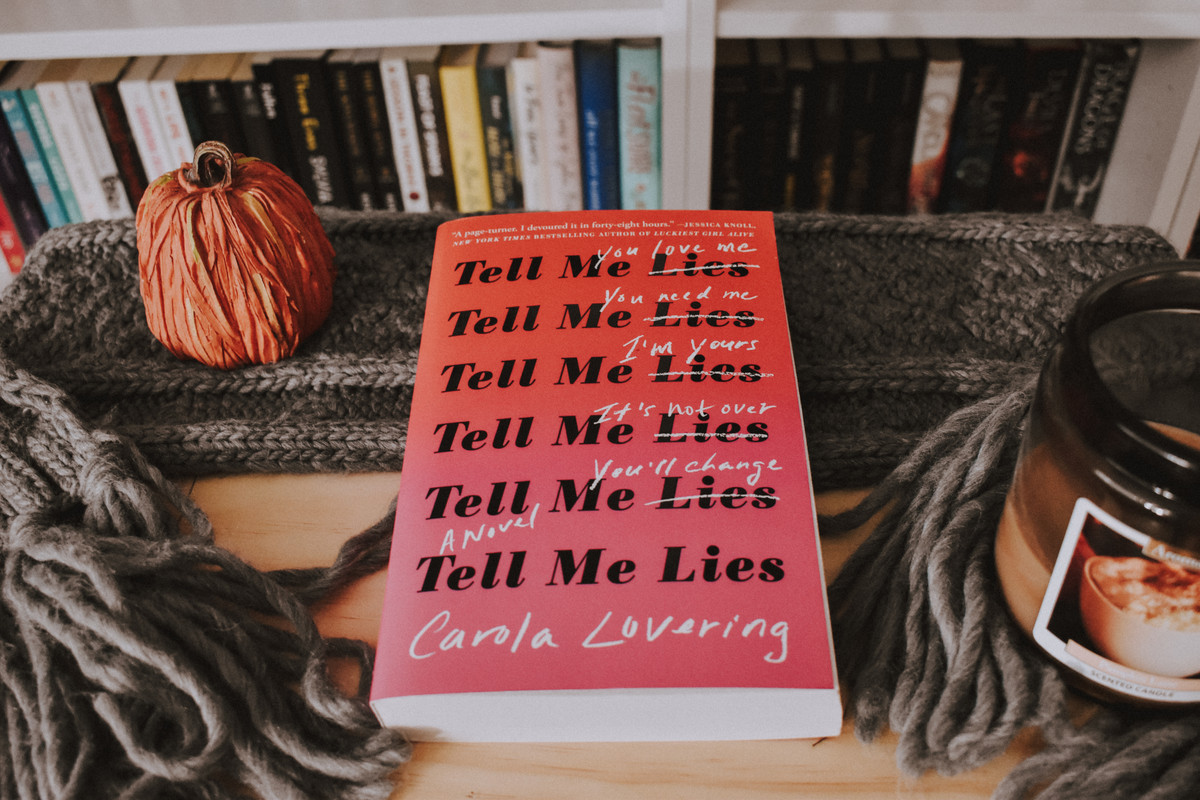 Tell Me Lies
Carola Lovering
Published by Atria Books on June 12th, 2018
384 Pages
Goodreads ~ Amazon ~ Kindle ~ Audiobook ~ Book Depository
Synopsis:
Lucy Albright is far from her Long Island upbringing when she arrives on the campus of her small California college and happy to be hundreds of miles from her mother—whom she's never forgiven for an act of betrayal in her early teen years. Quickly grasping at her fresh start, Lucy embraces college life and all it has to offer. And then she meets Stephen DeMarco. Charming. Attractive. Complicated. Devastating.

Confident and cocksure, Stephen sees something in Lucy that no one else has, and she's quickly seduced by this vision of herself, and the sense of possibility that his attention brings her. Meanwhile, Stephen is determined to forget an incident buried in his past that, if exposed, could ruin him, and his single-minded drive for success extends to winning, and keeping, Lucy's heart.

Lucy knows there's something about Stephen that isn't to be trusted. Stephen knows Lucy can't tear herself away. And their addicting entanglement will have consequences they never could have imagined.

Alternating between Lucy's and Stephen's voices, Tell Me Lies follows their connection through college and post-college life in New York City.
---
My Review:
Tell Me Lies follows our main character Lucy. Lucy is a freshman in a California college who is from New York. She has a bumpy start as she goes into college still highly upset with her mother because of something she saw her do that really hurt her. Lucy gets into the "party scene" kind of early in her college career. That's how she meets Stephen.
Stephen is not the best person. He's far from it. Stephen is confident he can convince any girl that they like him. He's quick to see what makes a woman feels good and uses it to lure them in. That's how he gets Lucy.
This is a story all about an extremely toxic relationship.
I bought this book at Walmart about a year ago? Maybe more. I bought it mostly because the cover .is gorgeous. But, I picked it up because Katie from KatesBookDate. She said many good things about this book and how realistic it can get.
Unfortunately, I didn't feel the same. This book left me feeling like there could have been more. Lucy could have gotten a better ending. I needed to see her leave New York, not just talk about it.
There were just some things in this book that I could not get over. The slut shaming. The girl hate. Fat shaming. It got a bit ridiculous. This book would have been a five star book if the girls stopped comparing their bodies to each other and talking about the arm "flaps".
It was hard to read this book at times. When Lucy was making a bad decision. When Stephen was manipulating girls. Stephen's parts were really hard to read at times. Carola did a phenomenal job at writing such a toxic character and made it believable. I do feel like this is a story that a lot of women can probably relate to, unfortunately.
This is not a light and fluffy read. Do not think it is going into it! You will be highly disappointed.
I enjoyed Carola's writing. She's a wonderful storyteller. I really wish that I loved this book. But, I will definitely be picking up more of her books in the future.